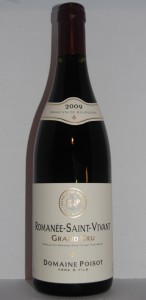 Poisot     Romanee Saint-Vivant, Grand Cru     2009 (NR-PO-G-ROSV-09)
Facing sunrise, this parcel is right at the bottom of the mythical Romanée Conti. Thirty-five year old vines produce this flamboyant Grand cru that combines both the elegance and the complexity of the Pinot noir.
With an intense ruby color, this vivacious wine offers delicate blackcurrant and blackberry aromas, with extremely concentrated flavors, all supported by strong tannins, and is most impressive on the finish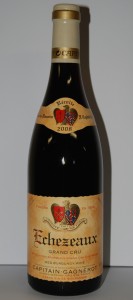 Capitain-Gagnerot     Clos Vougeot, Grand Cru     2010 (NR-CG-G-CLVO-10)
The vineyard is situated in the upper part of the world famous Clos de Vougeot. From the same soil as Les Echezeaux, this is a robust and powerful wine, bristling with superb black fruits aromas supported by a great tannic structure and revealing a nice liquorice flavor on a long finish .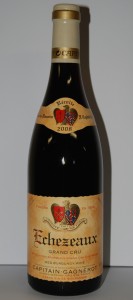 Capitain-Gagnerot     Echezeaux, Grand Cru     2010 (NR-CG-G-ECZX-10)
The 25 year old vines of this "terroir" of chalky soil with fossils from the Bajocian era mixed with red clay and flat stones (laves) produce a rich, dense and well balanced Grand Cru with great character, combining an incredible array of black fruits aromas and floral flavors.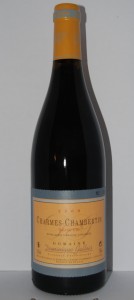 Gallois     Charmes-Chambertin, Grand Cru     2008 (NR-GA-G-CHCH-08)
Vines are almost 100 years old with an ideal location south of the "Griottes" and just below the "Chambertin", two other Grand Crus from Gevrey-Chambertin. The domaine produces only about 1,600 bottles per year of this Grand cru after 18 months of aging in oak casks.
Very ripe and fresh, supported by lovely tannins and long on the finish with a very nice velvety texture, this is a sensational red burgundy.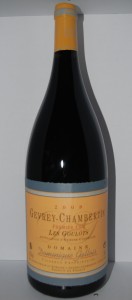 Gallois     Gevrey-Chambertin 1er Cru, Les Goulots (Magnum)     2008 (NR-GA-P-GCLG-08M)
This parcel, located on the edge of the woods high above the village, was planted in 1974 on a very steep hillside.
Shows a well-balanced acidity combined with subdued tannins, with light flavors of truffles and plenty of black fruits aromas
If there is no denying the aesthetic pleasure of the larger bottle, besides its size (equal to two regular-size bottles), the Magnum offers a superior aging capacity as the wines mature more slowly within its confines.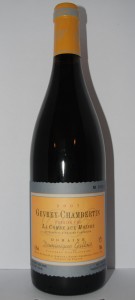 Gallois     Gevrey-Chambertin 1er Cru, Combe aux Moines     2007 (NR-GA-P-GCCM-07)
With vines planted in 1954, this parcel gives a premium quality harvest every year. With its low yield and the great quality of its grapes, this Premier Cru, overlooking the "Chateau de Gevrey", has always been held in high esteem by wine connoisseurs.
Well balanced, very ripe and rich and supported by fine tannins, with an impressive array of black fruits (blackcurrant, bilberry)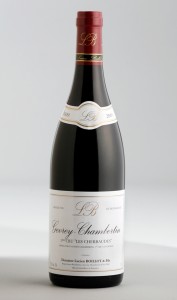 Boillot     Gevery-Chambertin 1er Cru, Les Cherbaudes     2008 (NR-BO-P-GCLC-08)
Intense, aromatically complex, with layers of red and black fruits supported by elegant tannins, this Premier cru often demonstrates Grand cru quality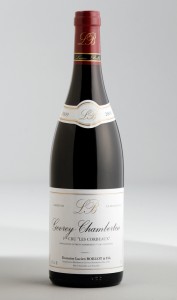 Boillot     Gevrey-Chambertin 1er Cru, Les Corbeaux     2008 (NR-BO-P-GCLX-08)
Boillot     Gevrey-Chambertin 1er Cru, Les Corbeaux     2010 (NR-BO-P-GCLX-10)
Dense with tannins, this is a mouth-filling wine, with a very rich array of black fruits and a great persistence.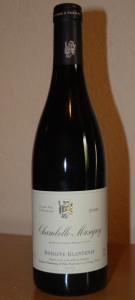 Glantenay     Chambolle-Musigny     2009 (NR-GL-V-CHMU-09)
Parcel area : 45 ha (111 acres)  –  Chalky clay-like soil
Pure, fragant and full of raspberry and strawberry flavors, it offers a delicate and elegant bouquet over a solid structure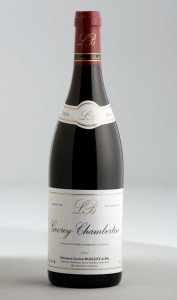 Boillot     Gevrey-Chambertin     2009 (NR-BO-V-GECH-09)
The assemblage of selected parcels provides a fine example of the typicity of the famous Gevrey-Chambertin village. Seductive aromas of red fruits, verging on cassis and cherry, prevail. The mouth reveals the intensity and richness of the Pinot noir with a well-balanced structure, good density and harmony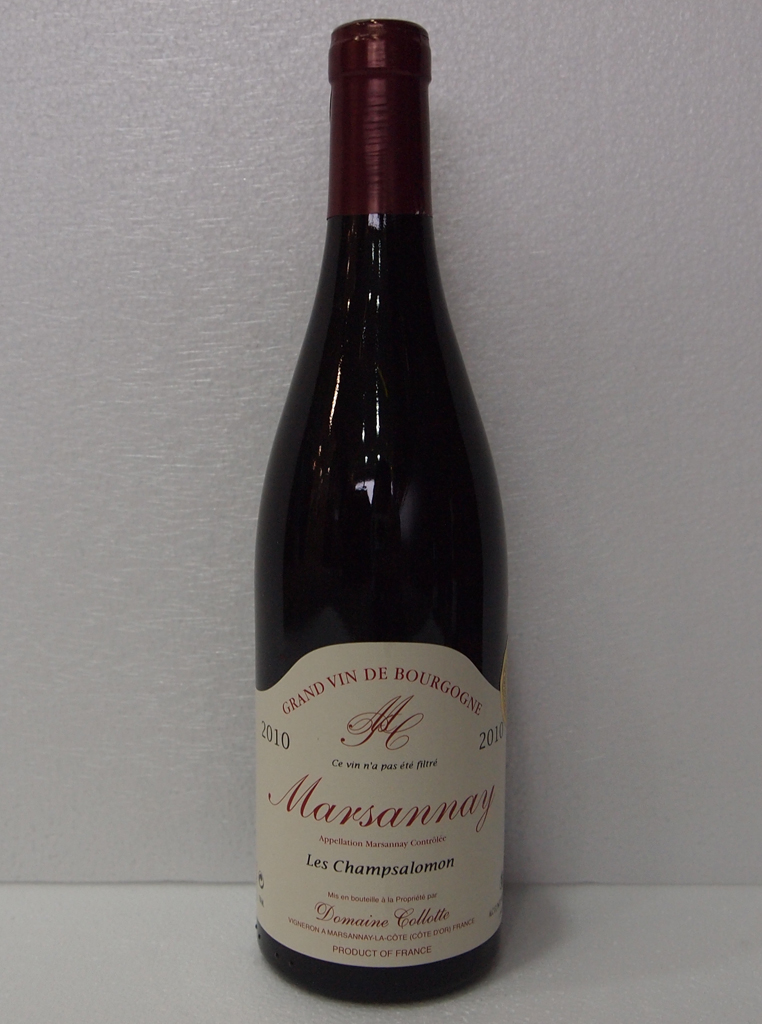 Marsannay, Les Champsalomon     2010 (NR-CO-V-MSCH-10)
A well-balanced depth and nice fruit aromas over silky tannins for a very elegant and pure wine, revealing a powerful frame delivered by old vines of one of the best terroirs of the Marsannay appellation.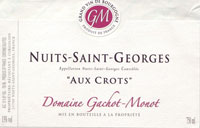 Gachot-Monnot     Nuits-Saint-Georges, Aux Crots
This is a small parcel situated near the "Château Gris" in the southern part of Nuits-St-Georges and entirely surrounded by 1er Cru vineyards. It produces solid and structured wines that deliver great aromas of black fruit and spices. A typical Pinot from the Côte de Nuits and one of our best value wines.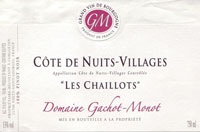 Gachot-Monnot    Cote de Nuits – Villages, Les Chaillots
This is a special cuvée from a unique parcel called "Les Chaillots". It derives its name from an old dialect meaning "Les Cailloux" (pebbles) and truly its location features a very stony soil providing a natural drainage. This terroir delivers complex wines with many fruity notes (cherry, blackberry) as well as undergrowth aroma.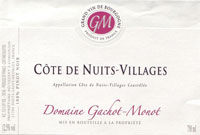 Gachot-Monnot     Cote de Nuits – Villages  (NR-GM-V-CDNV-09)
This is the prime wine of Domaine Gachot-Monot with a 7 hectares annual production. The parcel is located just across the Nuits-Saint-Georges appellation and produces richly tannic, masculine wines with a great structure.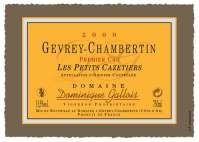 Gallois     Gevrey-Chambertin 1er Cru, Petits Cazetiers     2009 (NR-GA-P-GCPC-09)
This appellation, ideally located between "Les Cazetiers" and "La Combe aux Moines", is exclusive to the Gallois vineyard. The 1,200 bottles produced every year come from vines averaging 65 years old.
Elegant, subtle, discreetly tannic, this wine will seduce feminine connoisseurs
Remarks : Available until stocks last