Château Burgundy Limited is a Hong-Kong based wine importing business founded by Teresa Ng Siu Ping and specialized in some of the world's most prized and complex Chardonnays and Pinot Noirs from Burgundy, France.
While the company is quite young in this business, somewhat its story all started more than twenty years ago. Teresa Ng Siu Ping was then a manager of Top Effort Ltd, a local trading company, when a young French man, Christophe Leparoux, travelled to Hong-Kong to join the company as sales and marketing manager. They developed a strong work relationship during their three years collaboration at Top Effort Ltd, before Christophe returned to France to pursue other job opportunities.
During the following years, Teresa Ng set-up her own trading company Win Dragon Ltd (http://www.win-dragon.com) to successfully source out various types of amenity kits and customized products for leading airlines, hotels, cruise lines, retail stores and pharmaceutical industries.
In the meantime, Christophe became the export sales director for French company Bourgogne & Grasset.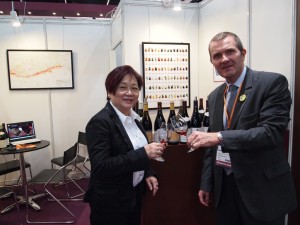 The two friends kept in contact and on regular basis would consider the best way to start working together again. In late 2010, the opportunity arose when Christophe decided it was time in his career to make the move and be on his own. He decided to capitalize on his 20+ years of experience of the Asian markets and his thorough knowledge of the local environments and networks of influence to set-up Golden Cathay Consulting, a consultancy company specialized in Export and International Trade of luxury goods to China, Hong Kong, Macau and Singapore based in Beaune, the capital city for the famous Burgundy wines.
Working with Teresa Ng became an obvious option and soon Teresa set-up the wine importing business Chateau Burgundy Limited while Christophe entered in a consultancy agreement with the newly formed company.
Following a passion for these exclusive and unique wines and because the wine market in Hong-Kong and Asia has become more and more sophisticated, Chateau Burgundy Limited positions itself at the specialist of Burgundy Pinot Noirs and Chardonnays in the region.
As a native Hong-Kong citizen, Teresa Ng is well aware of the local and Chinese culture and its beverage connoisseurship. Through her 20-year experience and knowledge of the trading business, she has a valuable expertise in the marketing, delivering and servicing of products in Asia.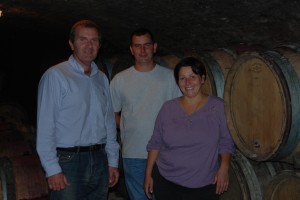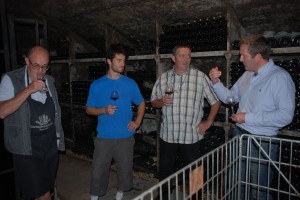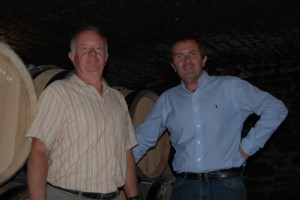 Sharing the same passion for Burgundy wines, Christophe Leparoux assists Chateau Burgundy Limited in the sourcing and selection of fine Pinot Noirs and Chardonnays from renown and very promising domains from the Chablis, Côte de Beaune and Côte de Nuits areas. As a permanent resident from Beaune, the capital city of the Burgundy wines, he is instrumental in securing the quality of the wines, the reputation of the wine maker as well as the traceability of the bottles shipped directly from the estates to Chateau Burgundy Limited dedicated warehouse in HK.
Today, Chateau Burgundy Limited offers connoisseurs, restaurants, and retailers alike a stunning portfolio of some of the very best Burgundy wines produced by boutique wineries alongside larger estates. The logistics and service provided from our Hong Kong base is second to none. The local presence in Burgundy of Golden Cathay Consulting provides a unique direct contact and a close partnership with the domains, all thoroughly selected on the basis of their:
– reputation
– respect of traditional and ethical viticulture and vinification practices
– quality of their wines, assessed through regular visits and wine-tasting cessions at the estate during the various phases of the process
– value for money
Château Burgundy Limited is committed to providing its customers their best experience of Burgundy wines through a partnership with recommended producers, an exclusive selection of Premier and Grand crus and a dedicated service.